Music CD The Long Road  Kevin Neidig                    A review By Bill Trousdale, August 2018 
Pennsylvania has long been a place where story telling music is made and presented by most of the diverse nationalities of settlers in the Commonwealth.  Americana Folk music has become a distinct identity to its hard living, loving and working settlers, simply because the music adds the emotion, often not expressed in the spoken word alone. I get that Kevin's musical foundation is based in this tradition. I feel Kevin Neidig's solid musical foundation will help build his current instrumental and vocal talents to a brighter entertainment future.  
The tendency to compare and contract an artist's work with other known artists in a specific music genre is often the easy way out in writing a review. At first listen, I was noting many writers and performers of Americana Folk music, as well as others outside of the genre, Dave Matthews, Gordon Lightfoot, Billy Joel, Bella Fleck, Jon Bon Jovi and a few more, I couldn't quite identify.  I was taking note primarily of the vocal style.  It was as if, every tune brought to mind another artist. 
I attribute that long list of similar artists to Kevin's colorful presentation of every story and lesson in song….Every tune is a showcase of Kevin's talent, every song is a short story that is best when told by the author.  I can see someone, maybe from the list above, will want to cover one or many of his compositions. Rarely does an LP offer a story or lesson in every cut. Rarely is a remake better than an original. 
As a Senior Citizen with an eccentric musical passion, I was stunned I could not identify more artists; since every track featured an identifiable emotion in the presentation I had heard before, or had I?  Kevin's music feels familiar and at times similar, but in no way the same. Upon my second and third listen, I gave up trying to compare and contrast. I then began to really listen. Musically I noticed the pizzacato before the chorus and the folksy sway in By the Handles and mind clearing piano ala Billy Joel, to settle the listener into the tranquil What Can I Do To Make you Happy.  What is evident, Kevin's precision and mastery of guitar, banjo & mandolin, plus a crystal clear vocal, with a gentle nudge of inflection for additional clarification of the tune. Happy go lucky, bluesy pickin' in Same Suit, and the music for the Emily Dickinson Poem, As If as Usual Done, may well be on the top ten listed on my tombstone. 
Picking out just a few titles to highlight is darn near impossible. I subscribe to Steven Krempasky's observation, former Vice president of theater operations, Whitaker Center for Science and the Arts, "With little effort Kevin just lets his guitar sing. His strings are attached to Angel Wings"  
 Kevin Neidig, his music, performances with area groups and as a solo artist are found on the internethttp://www.kevinneidig.com/ and https://www.facebook.com/kevinneidig  His presentations on location should not be missed. 
a review by Bill Trousdale, former central PA broadcaster and founder of Pennsylvania Museum of Music and Broadcast History
"

Song: Don't Take My Gun Overall Impression: Honoring the roots of the Americana sound with a refreshingly raw single-take recording, Kevin Neidig's Don't Take My Gun is a soulful work of Folk storytelling set to harmonically rich and emotionally poignant acoustic guitar. Lyrically outlining the complex relationship between the song's character Johnny and his favored firearm, Kevin Neidig's bright and powerful vocals mingle with intricate chord structures and shifting tempos to make Don't Take My Gun a thrilling sonic experience! Strongest Point(s): This is a really great piece of music, from the quality of the recording to the fundamental elements of the song. The guitar work is impeccable, with enough variations on the structure to keep it engrossing all the way through - plenty of emotionally dense chord voicings and melodic motifs to keep listener interest and Kevin's vocal tones are powerful and engaging. Love the counter melody in the guitar part as the vocals sing "Don't take my gun," or any of the following variations. The tempo shift is a nice touch as well. Very organic, very enjoyable. Bonus points for animating the guitar with all 6 strings in the accompanying video! Great work! Target Audience Appeal: Kevin Neidig's Don't Take My Gun offers a complex and multi-faceted appeal to the listening world. On the nose of it, the song's title is sure to gain interest from parties that dwell on second amendment rights and regulations while the narrative content of the song is bound to connect with a wide range of potential listeners. Ultimately, the strongest draw in this song is the style and skill displayed in Kevin Neidig's sound. Full of authentic and organic musicality, Don't Take My Gun stands to reach a vast audience! Thanks for the submission! - Jon W." - Jon Wright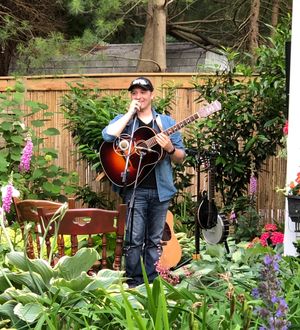 Reviews & Quotes
"

When listening to Kevin's songs it is hard to fathom that he contrived them. I think he was just the first to discover these beautiful forms in nature that have existed long before we have ever heard them. Kevin just knows where to listen."
— Justin Clauser, RRR Guitar
"

Your CD is really beautiful--very profound and powerful and quite enjoyable. You are truly a talented and gifted being."
"

"Out of all the musicians I know, Kevin Neidig is one of the best, [both] creative and technical.""
— Fred Pellegrini Jr.,
"

[Kevin's] guitar playing and singing really draws you into the song. Good to hear real acoustic music!" - Chris @ Banjohighway
— https://www.banjohighway.com
"

A casual listen to I've Been There, Kevin Neidig's latest set, underlines his signature sound—a variety of guitar playing styles ranging from whimsical fun to a slow steady driving beat—and everything in between. His vocals run the gamut from baritone to falsetto—depending on the mood of the song. - See more at: http://www.pamusicscene.com/kevin-neidig-ive-been-there-review-by-paul-smith/#sthash.h8sZpPIJ.dpuf A casual listen to I've Been There, Kevin Neidig's latest set, underlines his signature sound—a variety of guitar playing styles ranging from whimsical fun to a slow steady driving beat—and everything in between. His vocals run the gamut from baritone to falsetto—depending on the mood of the song. - See more at: http://www.pamusicscene.com/kevin-neidig-ive-been-there-review-by-paul-smith/#sthash.h8sZpPIJ.dpuf Kevin Neidig – I've Been There review by Paul Smith (RecordSmith.com) for PAMusicScene.com February 2013 A casual listen to I've Been There, Kevin Neidig's latest set, underlines his signature sound—a variety of guitar playing styles ranging from whimsical fun to a slow steady driving beat—and everything in between. His vocals run the gamut from baritone to falsetto—depending on the mood of the song. A second or third listen reveals a rich texture of lyrics that contradict themselves and force yet further listens to fully understand them. "I Can't Go Back… so I look ahead without a way to go," "I've Been There… but I can't say where I've been," and "I Need A Connection… There's a freedom in surrendering."  These are markers, clues, to the ironies of the lives we lead. "She's Having A Good Cry Now" is all about fully embracing sadness to be able to fully let go to move on to the next euphoria. "Boundary" is a reminder of the need to set limits in order to not limit one's potentials. "Drop In My Cup" signals the last hope and the first step towards new hope. In "Rain Down" and "Peace Be With You" – Kevin's voice drops down a few octaves to convey a somber tone that builds to a religious intensity with a righteous conclusion only possible when the pain is allowed to be released and the tears to be shed. There's a new payoff after each listen to this set. It's like a group of relative strangers who interact on a long journey and gradually shed their individual boundaries along the way to open themselves up to deeper understanding. In "I've Been There," each song has its own meaning and would not need to be tied to another to stand its own but, the whole set is even more valuable than the sum of its songs. There's something to be said for enjoying the imagery at face value but to fully get to know Kevin's latest set, one need to go on the whole journey and to interact with the other passengers along the way. - See more at: http://www.pamusicscene.com/kevin-neidig-ive-been-there-review-by-paul-smith/#sthash.h8sZpPIJ.dpuf Kevin Neidig – I've Been There review by Paul Smith (RecordSmith.com) for PAMusicScene.com February 2013 A casual listen to I've Been There, Kevin Neidig's latest set, underlines his signature sound—a variety of guitar playing styles ranging from whimsical fun to a slow steady driving beat—and everything in between. His vocals run the gamut from baritone to falsetto—depending on the mood of the song. A second or third listen reveals a rich texture of lyrics that contradict themselves and force yet further listens to fully understand them. "I Can't Go Back… so I look ahead without a way to go," "I've Been There… but I can't say where I've been," and "I Need A Connection… There's a freedom in surrendering."  These are markers, clues, to the ironies of the lives we lead. "She's Having A Good Cry Now" is all about fully embracing sadness to be able to fully let go to move on to the next euphoria. "Boundary" is a reminder of the need to set limits in order to not limit one's potentials. "Drop In My Cup" signals the last hope and the first step towards new hope. In "Rain Down" and "Peace Be With You" – Kevin's voice drops down a few octaves to convey a somber tone that builds to a religious intensity with a righteous conclusion only possible when the pain is allowed to be released and the tears to be shed. There's a new payoff after each listen to this set. It's like a group of relative strangers who interact on a long journey and gradually shed their individual boundaries along the way to open themselves up to deeper understanding. In "I've Been There," each song has its own meaning and would not need to be tied to another to stand its own but, the whole set is even more valuable than the sum of its songs. There's something to be said for enjoying the imagery at face value but to fully get to know Kevin's latest set, one need to go on the whole journey and to interact with the other passengers along the way. - See more at: http://www.pamusicscene.com/kevin-neidig-ive-been-there-review-by-paul-smith/#sthash.h8sZpPIJ.dpuf Kevin Neidig – I've Been There review by Paul Smith (RecordSmith.com) for PAMusicScene.com February 2013 A casual listen to I've Been There, Kevin Neidig's latest set, underlines his signature sound—a variety of guitar playing styles ranging from whimsical fun to a slow steady driving beat—and everything in between. His vocals run the gamut from baritone to falsetto—depending on the mood of the song. A second or third listen reveals a rich texture of lyrics that contradict themselves and force yet further listens to fully understand them. "I Can't Go Back… so I look ahead without a way to go," "I've Been There… but I can't say where I've been," and "I Need A Connection… There's a freedom in surrendering."  These are markers, clues, to the ironies of the lives we lead. "She's Having A Good Cry Now" is all about fully embracing sadness to be able to fully let go to move on to the next euphoria. "Boundary" is a reminder of the need to set limits in order to not limit one's potentials. "Drop In My Cup" signals the last hope and the first step towards new hope. In "Rain Down" and "Peace Be With You" – Kevin's voice drops down a few octaves to convey a somber tone that builds to a religious intensity with a righteous conclusion only possible when the pain is allowed to be released and the tears to be shed. There's a new payoff after each listen to this set. It's like a group of relative strangers who interact on a long journey and gradually shed their individual boundaries along the way to open themselves up to deeper understanding. In "I've Been There," each song has its own meaning and would not need to be tied to another to stand its own but, the whole set is even more valuable than the sum of its songs. There's something to be said for enjoying the imagery at face value but to fully get to know Kevin's latest set, one need to go on the whole journey and to interact with the other passengers along the way. - See more at: http://www.pamusicscene.com/kevin-neidig-ive-been-there-review-by-paul-smith/#sthash.h8sZpPIJ.dpuf"